Here we will tell you how to get from Bangkok to Koh Samui fast, cheap and convenient. We'll explain how to get to Koh Samui by air, ground and water transport. Also we'll tell you how and where to book tickets in advance, advise on ticket promotions and give arrival transfer options. Every route description here is provided with pricing, timetables, travel time and general notes.
First of all – getting to Samui is easy! Tickets can be bought online. Comfort and safety are guaranteed on each kind of transport. Also, Thailand is a very friendly country and you will certainly get help on the way if needed. So let's go! All we have to do is choose among available transport options.
Here are 4 main routes from Bangkok to Koh Samui:
Plane – for maximum comfort

Train, bus + ferry – for those who prefer a middle way

Bus + ferry – economy option

Car + ferry – exotic option
There are 2 main flight options to Koh Samui.
Option #1: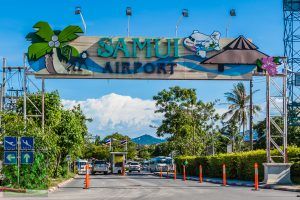 The quickest and most comfortable option is to take one of the direct flights to Koh Samui from Bangkok. They are operated by Thai Airways and Bangkok Airways and take off from Suvarnabhumi airport which is very convenient for international travelers (who mostly arrive in Suvarnabhumi). Air-tickets from Bangkok to Samui are sold online on official airline websites.
It's important to have a few hours in between the flights in case the first flight is delayed. The most "safe" option is to land in Bangkok in the morning and leave in the evening. There are 15 flights from Bangkok to Koh Samui daily. Travel time is 1-1,5 hours. Ticket pricing starts from 3500 bht (around $100).
There are several options of transfer from airport to your accommodation:
1. Minibuses are convenient and inexpensive, good value for those who travel independently. Prices vary from 100 to 200 bht depending on the distance. Minibuses are driving out only once full. Children are welcome free of charge. Tickets are sold at the counter in Samui airport and by minibus drivers. Minibus parking is located at the airport exit.
2. Taxis are for those who travel in larger groups and families. Average price is 700 bht per car. (from 400 to 1200 bht depending on the distance). The most reliable option is to order a taxi at the airport counter or book it via KiwiTaxi in advance. Also many hotels provide transfer service. Hotel staff can meet you at the airport, carry your luggage and drive you to your hotel. Average price is 400 – 500 bht for advance bookings.
3. Songthaew (Tuk-Tuk) truck taxi is definitely not the most comfortable option. Need to agree on price with driver in advance (from 100 to 300 bht). You might be dropped off on the main road and not transferred directly to hotel reception. Songthaew are caught similarly as taxi cabs along the main road. We advise to discuss your destination details with driver before hopping in.
Along with that Songthaew have a certain advantage – being open to outdoors they can offer an adventurous ride with exotic views of Koh Samui.
4. Rental car directly from airport parking. Contact us for more infomations.
Option #2:
Another quick and cheap air route is from Don Muang airport, Air Asia, Thai Lion Air and Nokair. Tickets are sold on official airline websites. Watch out for promotions. Air Asia are famous for their 50% and more discounts. For at least 2 weeks-in-advance bookings prices might get as low as 850 bht.
This option has several drawbacks. It requires extra 1-2 hours of travel from Suvarnabhumi (which hosts most international flights) to Don Muang. Plus it requires a bus and a ferry to Koh Samui as planes from Don Muang don't fly to the island directly. The advantage of this option is lower budget which is almost half price of direct flight to Samui. Don't forget to mention that you go to Samui when booking your tickets. This way you will get a full ticket package to the island.
Shuttle buses to Don Muang are waiting on the street after you leave Suvarnabhumi. These buses are free of charge if you provide return tickets. Shuttle buses work from 5-00am until 12-00 midnight with 45 minutes interval. Taxi serves as an alternative and costs 300 – 350 bht with taxi meter. Average travel time for that route is 5 hours 30 minutes (1,5 hours to Don Muang, 1 hour flight, 1,5 hours by bus and 1,5 hours on a ferry). Total cost starts from 1400 bht.
Aircrafts from Don Muang land in Surat Thani or Nakorn Si Thammarat airports. Package tickets (bus plus ferry) are sold in the airports and on boards of airplanes. They cost 450 bht.
For more convenient ticket search we advise to use agents like SkyScanner and JetRadar. They allow to quickly compare the best offers from multiple airlines.
How to get to travel from Bangkok to Koh Samui by train or bus? Read in the second part of the article.