The benefits of this option are comfort, convenience and friendly budget. The route combines train, bus and ferry. Ticket packages including all 3 transportation means are sold online, here or upon arrival at Hua Lamphong railway station. You can find transportation timetables for your travel from Bangkok to Koh Samui on the official railway website and also here.
So let's start. In Suvarnabhumi airport you need to get down to Bangkok MRT following arrow signs and take the skytrain to Makkasan MRT station. Then switch to Phetchaburi subway and proceed to Hua Lamphong terminal station. Average travel time is one hour. If that route sounds too complicated then just take a taxi straight to Hua Lamphong. In the airport just follow the signs to Public Taxi. Make sure taxi meter is on.
You can buy a complete ticket package to Koh Samui at Hua Lamphong official counters.
There are several options:
1st class coupe sleeper with aircon and private cabin
2nd class sleeper with aircon or more budget friendly air-conditioned and seated option
3rd class – simple seats
The most comfortable option is to travel overnight. It takes from 9 to 12 hours depending on the route. Tickets vary from 300 to 1400 bht depending on the class. Trains go every 1-1,5 hours starting from 13-00pm.
Tips: Sometimes seat tickets are the only ones offered at the counter. In that case, politely ask for help with purchasing sleeper tickets saying that you faced the issue before. The reason is their database mistakenly displays "0" sleeper class seats available but the tickets can be still purchased somehow. A little mystery of Thailand. We advise to buy tickets in advance online.
We have to note that trains in Thailand are very comfortable. Even 2nd class sleeper train from Bangkok to Koh Samui welcomes with snow-white bed linen and friendly staff. Sleeping berths are separated with curtains. Breakfast, lunch and dinner are served on board. The first thing you hear after you wake up is "Good morning", and then fresh coffee is brought into bed.
Speaking of combined tickets they are very convenient. When the part of route by train is finished, staff will guide you to buses which take you right to the ferry. You can also buy tickets separately on the way. It saves little money but gives no guarantee that tickets will be available when you arrive at your next transit point.
There are 2 railway routes.
Option #1:
From Hua Lamphong to Surat Thani station. This is an optimal choice especially if you take a night sleeper train with combo ticket. These trains are very convenient for sleeping and time on the road passes quickly. Staff meets combination ticket travelers on the platform upon arrival and accompanies them to the bus which drives directly to  Don Sak pier. Travel time 1,5-2 hours. Ferries from Don Sak to Koh Samui go every 1,5-2 hours, travel time  is 1,5-2 hours. There are two ferry companies in Don Sak – Seatran Ferry and Raja ferry.
Seatran ferries arrive in Nathon, Raja ferries – in Lipa Noi. You can pick which pier is closest to your destination area to save time and money on hotel transfer.
Option #2:
From Hua Lamphong to Chumphon and then on a high speed ferry to Koh Samui. Be cautious, there are only 2 ferries per day at 7-30am and 13-00pm.
Tips: Buy tickets on trains which arrive no later than 6-00am. Purchase them online in advance on Lomprayah company website. Average travel time is 3,5 hours.
Both options have same costs: 200 bht for bus and 150 bht for ferry.
How to get from Bangkok to Koh Samui by bus.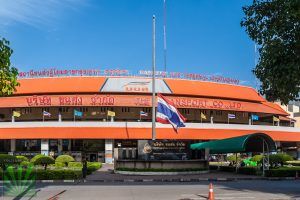 Please note that this option is the cheapest. Travel time from Bangkok to Koh Samui estimates from 10 to 15 hours (direct route or changing buses). We recommend buying Joint Tickets which include a ferry to Koh Samui. The most convenient and reliable are night buses. Total ticket cost is 400 – 1500 bht. You can buy them at the airport, in a tour agency, at a bus station counter or online via 12go.asia.
Scheduled buses to Koh Samui go from 2 bus stations: souther Sai Tai Mai and northern Mor Chit from 6-00am to 20-30pm. Buses are VIP 1st and 2nd class. Prices range from 400 to 1200 bht. See the timetable online.
You can get from airport to bus stations using minibuses or metered taxis below 200 bht. Ask for Joint Tickets at the counter, price is 800 bht. If there are no Joint Tickets available you can easily take a bus to Surat Thani (from 550 bht) and then get another one to Samui (250 bht).
How to get from Bangkok to Koh Samui by air? Read in the other part of the article.